Some time ago, I decided to pick a game at random from my Steam games list to play. In a moment of ennui and with a desire for something different, I decided to play Recettear: An Item Shop's Tale. I had picked up the game long ago during a Steam sale, but like so many other items picked up at Steam sales, it had been forgotten.
There is a term, defined on TV Tropes, called the "widget series" — the Weird Japanese Thing (WJT). If ever a game qualified, I believe Recettear is the exemplar. In Recettear you take on the role of Recette, an air-headed, happy young girl who has suddenly been saddled with the debt taken out by her missing father. In order to save her home, you must earn a great deal of money to repay the debt which is coming due in less than a month. On the urging of her fairy companion/creditor, she decides to open an RPG-style item shop to provide equipment to the local town as well as the burgeoning adventurer community who search through nearby ruins.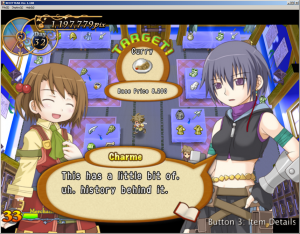 The core of the gameplay is straightforward. You buy items from wholesalers and then display them in your shop where people will come in and buy them from you. The selling of items is itself a haggling mini-game wherein you attempt to ascertain what each particular customer is willing to pay. As customers become regulars, they start carrying larger amounts of cash and can buy more expensive items. Buying and selling items levels up Recette as a merchant and allows access to better items, bigger shops, and new interactions such as taking orders. The main weakness of this system, however, is that once you've figured out what people are willing to pay for items, the process of buying and selling becomes uninteresting. For instance, the character called "Man" will always buy an item at 125% of its value. Once you know this, there is no real reason to haggle. Finding these sort of statistics for every character (which other people have already thoughtfully done in FAQs and wikis) removes most of the mystery and suspense from the shop.
In addition to running the shop, Recette can also try to cut out the middle man by diving into the nearby ruins with an adventurer and finding items for free on monsters or in treasure chests. In this part of the game, it is more of a Zelda or Dark Cloud endeavor. Dungeons are randomly generated and come in five level chunks with bosses at the end of each set of five levels. Unfortunately, this is one area where Recette's Japanese RPG origins shine through. Most of the bosses qualify as Nintendo Hard and the penalty for failure is quite steep–the forfeiture of all items found in that particular dive save one or two.  Of course, level grinding is a necessity for success in these ruins as well.
Even with the ultimately robotic merchant experience and the frustratingly difficult dungeon bosses, I still feel compelled to recommend this game for one reason which counterbalances all of those problems: the writing. The translation of the game is brilliant, hilarious–sometimes intentionally, sometimes not–and clever. Dialog is almost universally witty and the characters' quirkiness gives it a charm that many games lack.
Recettear: An Item Shop's Tale: 1